Solar Light Poles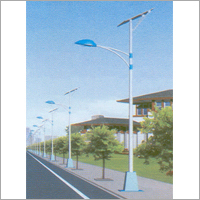 Solar Light Poles
Price And Quantity
Piece/Pieces

3000.00 - 3000.00 INR
Product Description
By keeping track with latest market development, we are engaged in offering our clients an excellent quality range of Solar Light Poles. These electrical poles are widely used for the installation of lights on roads, parking areas, stadiums, etc. Manufactured from high grade raw materials in our high-tech manufacturing unit, these poles are praised for easy installation, weather & rust resistance, perfect finish, high strength and durability. These high quality Solar Light Poles are available with us in different specifications at market leading prices.
Salient Features
Galvanized Conical Pole are mounted above the ground and will not rust due to hot dip galvanized protection.
Conical poles due to there continuous tapering and made from one length of sheet has no such problem.
The conical poles of all categories have internal flushed type doors.
The conical poles are made up of HR Coils which can easily be procured high tensional gaze 490 MPA. Thus there is increases the safety factor of the pole
Conical pole can be very easily shifted and reused.
Dimension of Solar Light Poles
| | | | | | | | | | | | | |
| --- | --- | --- | --- | --- | --- | --- | --- | --- | --- | --- | --- | --- |
| Pole Type | Height (Mtr) | Top Dia. | Bottom Dia. | Sheet Thickness | Base Plate Dimensions (LxBxT) | Bolt Size (No. X Dia) | Pitch Circle Dia. | Foundation Bolt Length | Projected Bolt Length | Anchor Plate Thickness | Size of the Door | Height of door above base |
| JKC 5 3 150 1 | 5 | 90 | 150 | 3 | 310x310x12 | 4x25 | 310 | 500 | 140 | 3 | 75x250 | 500 |
| JKC 5 4 150 1 | 5 | 90 | 150 | 4 | 310x310x12 | 4x25 | 310 | 500 | 140 | 3 | 75x250 | 500 |
| JKC 6 3 175 1 | 6 | 90 | 175 | 3 | 310x310x12 | 4x25 | 310 | 600 | 140 | 3 | 75x250 | 500 |
| JKC 6 4 175 1 | 6 | 90 | 175 | 4 | 310x310x12 | 4x25 | 310 | 600 | 140 | 3 | 75x250 | 500 |
| JKC 7 3 175 1 | 7 | 90 | 175 | 3 | 310x310x16 | 4x25 | 310 | 600 | 140 | 3 | 75x250 | 500 |
| JKC 7 4 175 1 | 7 | 90 | 175 | 4 | 310x310x16 | 4x25 | 310 | 600 | 140 | 3 | 75x250 | 500 |
| JKC 8 3 175 1 | 8 | 90 | 200 | 3 | 310x310x16 | 4x25 | 310 | 700 | 140 | 3 | 75x250 | 500 |
| JKC 8 4 175 1 | 8 | 90 | 200 | 4 | 310x320x16 | 4x25 | 310 | 700 | 140 | 3 | 75x250 | 500 |
| JKC 9 3 175 1 | 9 | 90 | 175 | 3 | 310x310x16 | 4x25 | 310 | 700 | 140 | 3 | 75x250 | 500 |
| JKC 9 4 175 2 | 9 | 90 | 175 | 4 | 310x310x16 | 4x25 | 310 | 700 | 140 | 3 | 75x250 | 500 |
| JKC 9 3 200 2 | 9 | 100 | 200 | 3 | 310x310x16 | 4x25 | 310 | 700 | 140 | 3 | 75x250 | 500 |
| JKC 9 4 200 1 | 9 | 100 | 200 | 4 | 310x310x16 | 4x25 | 310 | 700 | 140 | 3 | 75x250 | 500 |
| JKC 10 3 200 2 | 10 | 100 | 200 | 3 | 310x310x16 | 4x25 | 310 | 700 | 140 | 3 | 75x250 | 500 |
| JKC 10 4 200 1 | 10 | 100 | 200 | 4 | 310x310x16 | 4x25 | 310 | 700 | 140 | 3 | 75x250 | 500 |
| JKC 11 3 175 1 | 11 | 90 | 175 | 3 | 310x310x16 | 4x25 | 310 | 700 | 140 | 3 | 75x250 | 500 |
| JKC 11 4 175 2 | 11 | 90 | 175 | 4 | 310x310x16 | 4x25 | 310 | 700 | 140 | 3 | 75x250 | 500 |
| JKC 11 3 200 3 | 11 | 100 | 200 | 3 | 310x310x16 | 4x25 | 350 | 700 | 140 | 3 | 75x250 | 500 |
| JKC 11 4 200 1 | 11 | 100 | 200 | 4 | 310x310x16 | 4x25 | 350 | 700 | 140 | 3 | 75x250 | 500 |
| JKC 12 3 240 2 | 12 | 110 | 240 | 3 | 350x350x20 | 4x25 | 350 | 700 | 140 | 3 | 75x250 | 500 |
| JKC 12 4 240 1 | 12 | 110 | 240 | 4 | 350x350x20 | 4x25 | 350 | 700 | 140 | 3 | 75x250 | 500 |
| JKC 12.5 3 270 2 | 12 | 110 | 270 | 3 | 400O/Dx20 | 4x25 | 400 | 700 | 140 | 3 | 75x250 | 500 |
| JKC 13 3 270 1 | 13 | 110 | 240 | 3 | 350x350x20 | 4x25 | 350 | 700 | 140 | 3 | 75x250 | 500 |
| JKC 13 4 240 2 | 13 | 110 | 240 | 4 | 350x350x20 | 4x25 | 350 | 700 | 140 | 3 | 75x250 | 500 |
| JKC 13.5 3 270 1 | 13.5 | 110 | 270 | 3 | 400x400x20 | 4x25 | 400 | 800 | 140 | 3 | 75x250 | 500 |
| JKC 13.5 4 270 2 | 13.5 | 110 | 270 | 4 | 400x400x20 | 4x25 | 400 | 800 | 140 | 3 | 75x250 | 500 |